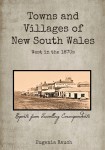 The reporters take us to the western towns of Orange, Cowra, Bathurst, Young, Grenfell and Forbes. Trips overlap with other districts, going to Mudgee, Wellington and Dubbo. Churches and schools, hospitals, hotels, bridges and selections are described, as well as items of interest to city readers of the time.
The reporter provides an update to his city readers on the state of gold mining that overflowed townships in the 1860s, and by the 1870s where business clung without inhabitants to support them.
Visits to Wellington, Carcoar, Cowra, Molong and Forbes describe the districts where the reporter was lucky to survive without getting lost before he could interview the local identities.
One report contains a description of the naming of the Dubbo Bridge twice on one day when two opposing factions believed they had the right to name the bridge. He includes an illustration of the newly completed bridge.