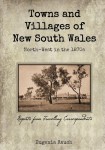 The first trip was a flying visit to Bourke, an adventure that took the travelling correspondent from Sydney through the Blue Mountains, Bathurst, Orange, Wellington, Dubbo and on to Bourke. The correspondent did not intend to write of the return journey, but so many incidents occurred that he wanted people who 'live at home at ease' to see that going to Bourke was not all pleasure.
The reporter for the next trip took his readers through towns and vast stations on the Liverpool Plains. The great stations are described as he continues to Walgett Edgeroi, Moree, Warialda, Reedy Creek, Bannockburn, Inverell to Bendemeer and Uralla, Armidale, Glen Innes and Strathbogie where the journey ended.
The third journey begins at Wallerawang and visit the Macquarie, the Bogan and the Darling River towns, visiting Quambone, Canonbar and Brewarrinna on the way to Sydney.