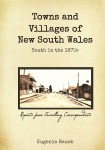 In the first series, the reporter begins his journey in Campbelltown, travels through the Illawarra to South Coast towns. Another southern journey takes in the South Coast and provides different detail to the towns, villages and businesses.
Shorter trips from Sydney to the Moruya and from Shoalhaven to Jervis Bay from casual correspondents give another view of the region. In a subsequent trip beginning in Campbelltown, the writer goes through Kiama to the Shoalhaven and to Ulladulla.
All of the journeys describe the smaller villages some of which have disappeared with progress in agricultural and manufacturing industries.
For readers not familiar with our southern districts, this volume offers an interesting view of the 1870s.