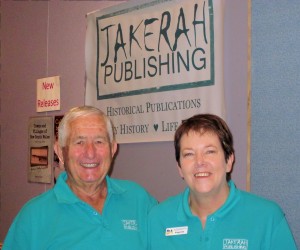 Fredrick and Eugenia established Jakerah Publishing in 2010 after they searched for someone who could provide a service which took a manuscript and made it into a professionally designed and printed book.
Eugenia self-published a large family history in 1986 and produced many booklets, manuals, training guides and extensive reports in her professional career as training and development officer and IT business analyst. Fredrick's background as a high school teacher assists in the research and skills required to produce accurate maps and diagrams specific to each book's content.
They provide an avenue for authors of historical publications to publish their books in small or large print runs, in hardcover or softcover. The types of publications range from life stories passed to children and grandchildren, and to local and international audiences, family stories distributed to extended family members and memory books to share with family and friends.
Why not contact Eugenia and Fredrick to arrange a consultation about your research and manuscript.